Saturday, December 26, 2015
Yield:
4
Hi everyone, Nicky here, calling in from
Kitchen Sanctuary
with a recipe to use up your Christmas leftovers!
Turkey Thai Curry
A brilliant way to use up your Christmas leftovers! Get dinner on the table in less than 20 minutes.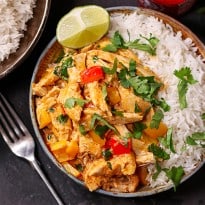 Ingredients:
1 tsp olive oil
1 red bell pepper, deseeded and chopped
1 yellow bell pepper, deseeded and chopped
2 cloves garlic, peeled and minced
1 tsp minced ginger
1 tsp lemongrass paste (optional)
2 cups leftover sliced turkey
2 Tbsp red thai curry paste (or replace with Indian tikka paste if you don't want a hot curry)
14oz can coconut milk (full fat)
¼ cup chicken stock (water with half a stock cube is fine)
1 tsp brown sugar
1 tsp fish sauce
Juice of 1 lime
Small bunch fresh cilantro, roughly torn
To Serve
Boiled rice
Lime wedges
Extra fresh cilantro
Directions:
Heat the oil in a large skillet and add in the chopped red and yellow peppers. Cook on a medium heat for two minutes, then add in the garlic, ginger, lemongrass paste and cooked turkey. Stir gently for one minute, then add in the curry paste. Stir to coat the chicken and allow to heat through for one minute.
Add in the coconut milk and stock and bring to a gently bubble (but don't let it boil). Let it simmer gently for 10 minutes, then stir through the brown sugar, fish sauce and lime juice. Taste and add more lime juice if required, then turn off the heat and sprinkle over the chopped cilantro. Serve immediately with boiled rice, lime wedges and extra cilantro.
Cinnamon Raisin Breakfast Casserole
I've been experimenting with different types of overnight breakfast casseroles. I made a decadent Caramel Pecan Breakfast Casserole where a sweet tooth is a must. It got the wheels turning as I thought about what else would taste good for breakfast. Then it hit me. I saw raisin bread on sale in the flyer and knew what my next recipe would be. I whipped up this Cinnamon Raisin Breakfast Casserole and it couldn't have turned out better!
The base is raisin bread which I love on it's own slathered with butter for breakfast. Instead it's topped with a milk and egg mixture and brown sugar and cinnamon topping. It's sweet, yes, but so darn yummy!
I guess another name for it could be a french toast casserole. It has just a few extras in it.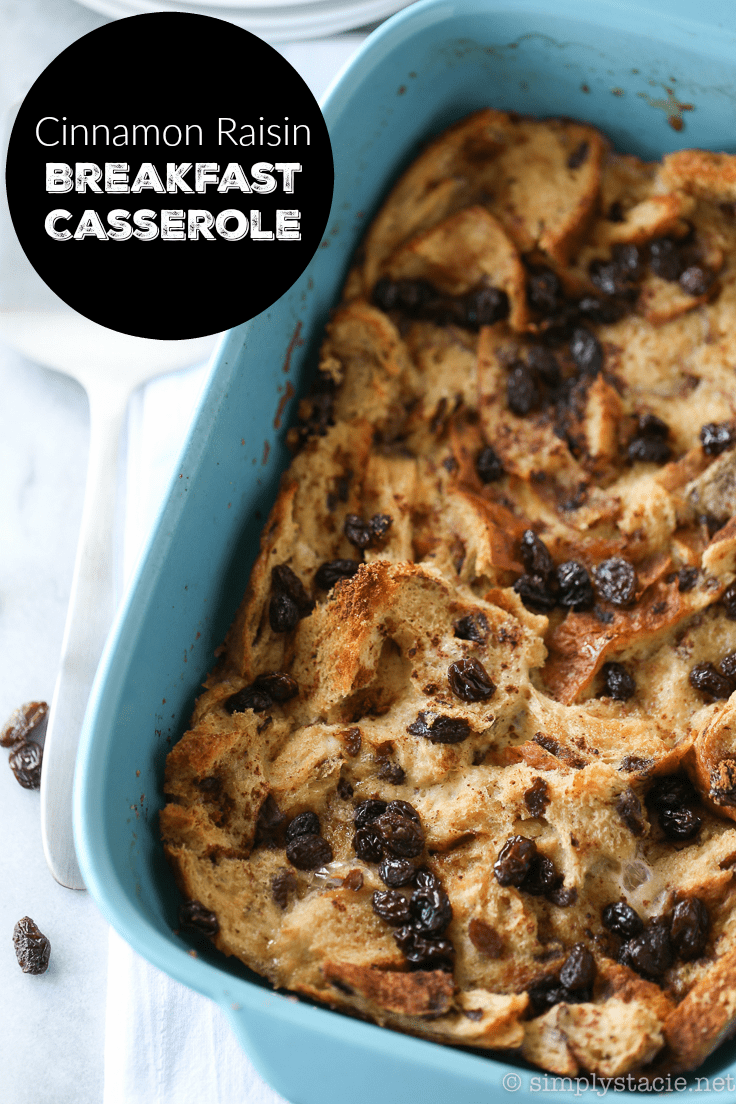 Cinnamon Raisin Breakfast Casserole
Sweeten your mornings with this divine Cinnamon Raisin Breakfast Casserole recipe! It's bursting with raisins, cinnamon and yummy raisin bread.
Ingredients:
6 slices of raisin bread
1 cup milk
3 eggs
2 tsp vanilla
1/8 tsp salt
1/8 tsp nutmeg
1/4 tsp cinnamon
1/4 cup raisins
1/8 cup brown sugar
Directions:
Preheat oven to 350F. Grease a 9×13 baking pan. Rip up raisin bread into bite sized pieces and layer at the bottom of the baking pan.
In a large mixing bowl, whisk together the eggs, milk, vanilla, salt and nutmeg. Pour evenly over top of the bread.
Sprinkle brown sugar, raisins and cinnamon evenly over top. Cover with aluminum foil. Bake for 30 minutes. Remove aluminum foil and bake for an additional 10 minutes. Serve hot. Drizzle with maple syrup, if desired.
HAPPY HOLIDAYS TO ALL!


All books Available

AMAZON

BARNES AND NOBLE

KOBO

SMASHWORDS

BOOKS- A- MILLION
https://www.facebook.com/marshaskidsbooks/